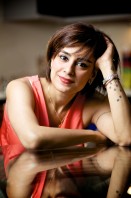 First food memory? Eating my grandmother's delicious spicy potato parathas with chai, sitting on her patio, from the shelter of the scorching sun in Pakistan.
First cookery skills? Boiling and cooking perfect basmati rice.
Favourite ingredients? Dried red chilli, cumin, star anise and cardamom.
Recipes or improvise? Improvise and cook with estimation.
Most underrated dish? Anything with okra.
Indispensable kitchen gadget or utensil? My mortar and pestle.
Tell us a top cookery tip? Cooking off ginger and garlic paste correctly is key to achieving a perfect flavoured curry.
Eat at home or eat out? Home is best.
What's Britain's best kept food secret? Pakistani food disguised as Indian!
What are the key ingredients for a successful cookery class? Open-minded students, a perfect amount of jobs for everyone to do, fresh ingredients and a light-hearted way of teaching by the instructor!
For more details on cookery classes visit www.pukkapaki.com
Contact: Cookery School Q&A: Sumayya Jamil of Pukka Paki