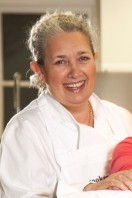 First food memory?
Homemade bread baked by Betty, our housekeeper in South Africa, straight from the oven with butter melted into it.
First cookery skills?
Making a boiling milk sponge cake when I was 5 or 6 years old. I used to win a prize with this cake at the annual show.
Favourite ingredients?
Really tasty tomatoes, fruit to eat raw or to cook with, fats and sugar – sometimes with other added ingredients !
Recipes or improvise?
Recipes for baking that have been passed down to me. Improvisation on all other things – I love seeing a new dish emerge and watching other people devour and enjoy it. It always amazes me how the classics keep returning.
Most underrated dish?
Pollock. Since we've been using it we've discovered just how versatile it is. We have recently sourced a smoked pollock too. It works brilliantly with lots of herbs; spices; oils or butter and a good squeeze of lemon juice – p.s. I read this question as 'fish', hence my response.
Indispensable kitchen gadget or utensil?
A pair of scissors, a good sharp knife and a food processor.
Tell us a top cookery tip?
At Cookery School our béchamel sauce is always made with oil as a healthy alternative to butter. We use it in macaroni cheese, lasagne, as a parsley sauce and as the basis for béchamel soufflés. The best thing is, it is fool proof – you mix your oil and flour together cold, whisk in cold milk and seasoning and put it onto the hob to thicken. Flavour it well with nutmeg, salt and pepper.
Eat at home or eat out?
Eat in because I can cook using all my favourite ingredients and come up with great dishes.
What's Britain's best kept food secret?
Britain's food is the best in the world overall (not everyone knows this). When I came to live here in the 60s it was definitely the worst – a miraculous change.
What are the key ingredients for a successful cookery class?
We like people to leave us feeling enabled and enthused. To achieve this we put an emphasis on the importance of good recipes, enthusiastic and knowledgeable teaching, great recipe preparation and using the best ingredients possible. Most importantly we try to be as sustainable as we can.
 Read more about sustainable fish cookery courses
Contact: Cookery School Q&A: Rosalind Rathouse, Cookery School, London