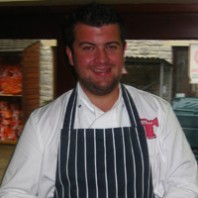 First food memory? The smell of syrup waffles warming on top of cups of coffee in a bar by the canals in Amsterdam.
First cookery skills? Baking cakes with my mum, I think.
Favourite ingredients? Herbs, all types from anywhere in the world, they really make a dish!
Recipes or improvise? Improvise. I get ideas from recipes and then adapt it to suit my needs and tastes.
Most underrated dish? Gesiers de canard Confit and duck hearts they're both delicious.
Indispensable kitchen gadget or utensil? Stick blender every time.
Tell us a top cookery tip?  To make a really tasty cucumber raita or tzatziki, grate the cucumber and squeeze out the liquid through a clean tea towel. It keeps your yoghurt thick and creamy. Keep the liquid and add a little lime juice and tonic water, freeze in ice cube trays and they go perfectly with a nice gin and tonic. Alternatively use lemonade for a great tasting Pimms. – it adds more flavour to your drink instead of watering it down.
Eat at home or eat out? I enjoy both but I prefer cooking for friends and family.
What's Britain's best kept food secret? We have so many amazing seasonal products. The trouble is they are underused. Eat locally sourced food from local shops to keep our local economy strong.  It really is that simple and works.
What are the key ingredients for a successful cookery class? Passion about what you do, a big smile and enthusiastic delivery wins the day every time.
Read a profile of the cookery school in Tideswell where Joe is the head chef/tutor
Contact: Cookery school Q&A: Joe Hunt, Tideswell School of Food