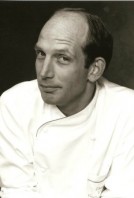 First food memory? My father's beef stroganoff, he was also a chef, and it is still one of my favourite foods today.
First cookery skills? Making classic onion soup for friends and family as a youngster, again taught by my dad.
Favourite ingredients? Red pepper, aubergine, garlic, mushrooms and parsley.
Recipes or improvise? I teach our students to cook without recipes, this way they understand what is happening to the ingredients at every stage during the cooking process, thus learning to cook!
Most underrated dish? Sweetbreads (heart) are delicious but rarely seen here or done well.
Indispensable kitchen gadget or utensil? My 40-year-old Zwilling knives.
Tell us a top cookery tip? Season food during the cooking process to get maximum flavour from every ingredient.
Eat at home or eat out? Both! Variety is the spice of life.
What's Britain's best kept food secret?  Lovely, delicious, free ingredients from the UK countryside –  put your wellies on and go picking samphire tips from Britains seashores from June to September.
What are the key ingredients for a successful cookery class?  An experienced, entertaining teacher, fresh produce, fun and laughter and a glass of chilled champagne.
Contact: Cookery school Q&A: Dennis van Golberdinge, No.7 Cooking Academy