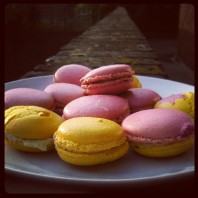 I don't bake. So I thought a macaroon class would be a good place to start – a modest, singular challenge for a non-baker. Besides it was Bastille Day.
It's quiet in the City (of London) on a Saturday afternoon. When I arrived at the school, a group was sat around the table in the front window feasting on the fruits of their four-hour gourmet French food class and swigging wine.
Our group of six waited for the tutor Neil to blow-torch a few lemon tarts and then entered the glass encased kitchen where the key ingredients were measured out for us on a table. I liked the idea of focusing on one thing for two hours. And it turned out that we needed the time. Making macaroons is not only an art but a science with no short cuts, I discovered.
We studied the difference in consistency between ground almonds, before and after they'd been finely sieved and blitzed in a mixer with icing sugar – we eventually achieved a light, talc-like powder to work with as opposed to the grittiness of the original almonds.
We then worked on beating the sugar and egg white mix until it was firm and glossy – no "droopage" was acceptable when we held up the mixing blade. One batch was overbeaten by all of 10 seconds or so and had to be thrown away.
Next we chose the dreaded colourings, in which I played no part; scarily it required only a pinch of fine French powder to turn 100 macaroons the colour of a highlighter pen. Neil, who previously ran the cookery school at River Cottage, confessed that he preferred to leave them 'au naturel' and I was with him on this. But it was a group effort.
We carefully folded our almonds in with the shiny white eggs and sugar and then filled piping bags. It was far more hygienic to use a disposable piping bag, said Neil, rather then one that, say, last piped mackerel pate. We squeezed out the air, snipped the end off and tried to follow Neil's lead in the delicate art of piping. Basically it was cup the top and squeeze, use the other hand to guide, do not move the nozzle, when you have a small disc stop squeezing, push nozzle gently down and remove. Easier said than done.
My tray looked more like a messy modern art work than a neat row of discs but I wasn't being precious about them. They stood for a bit and then went in to the oven – no higher than 160C – on aerated trays that allowed them to cook evenly from below, while we set to work on the fillings.
Neil, who was chirpy and informative, seemed to shift gear in to chef mode at this point as we sped through the fillings: salted caramel, coffee and hazelnut crunch, lime and ginger buttercream and the least popular, white chocolate and marmalade.
After removing the macaroons from the oven and allowing them to cool we had the fun part of piping in the fillings and tasting (some macaroons were still warm and melted the buttery salted caramel, which was delicious) and stuffing a container to take home. Inevitably we overfilled the first few but soon got the measure and the hang of the gently satisfying screw-top technique.
The class seemed thrilled with the results (most of the macaroons had a biscuity casing with a soft yielding interior), though they were perturbed by my admission that I was not rushing off home to make more macaroons. This class set you up well to go solo with macaroons but it was also a rewarding experience in itself.
Needless to say, no one back home was put off by the colours and no sooner had I turned my back on the paint-box-like fancies than they were devoured. Proof in the pudding.
Marvellous macaroons lasts two hours and costs £72. For more information visit: L'atelier des Chefs 10 Foster Lane London EC2V 6HR
Contact: Cookery course report: Macaroons at L'Atelier des Chefs