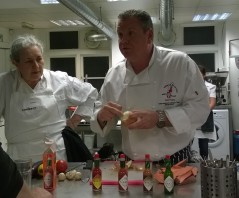 When you think of firing up the barbecue, Little Portland Street in London's Fitzrovia would seem an unlikely location. But this is where I found myself, on a wet Thursday evening, for a Tabasco-themed summer BBQ class.
Reassuringly, my hosts on the night were Rosalind Rathouse and her team at The Cookery School; a fantastic place to be whatever the weather. Leading the class was Gary Evans, the European Chef for Tabasco Sauce who was there to run through a menu of hot pepper haute cuisine – a selection of different dishes that can be cooked on a BBQ or, in this case, within a large, sweltering oven.
Upon arrival, we immediately got stuck into our first tongue-tingling taster in the form of warm, Mcilhenny mixed nuts, which had been coated in olive oil, original Tabasco sauce and seasoning, then roasted in the oven.
Mcilhenny is the name splashed across each and every familiar bottle of sauce as it was the eponymous Edmund who established Tabasco Pepper Sauce in 1868, after marrying into the Avery family. In fact, Avery Island is where Tabasco was cultivated and even now where up to 700,000 bottles per day are produced.
We didn't have quite so many bottles on the night, but there were certainly plenty to use liberally across all seven recipes on our menu, which made use of the four varieties of Tabasco. The newest addition, a rich, smoky chipotle version was used to baste spatchcocked chicken and add some serious "oomph" to our barbecue sauce. Green Tabasco – made with milder Jalapeno peppers – dressed our glistening fillets of sea bream and went into the fresh, zingy Salsa Rossa. Scoville-tipping Habanero lent some background heat to our chocolate dipped strawberries; and the original sauce was used on vegetable kebabs and thick-cut sweet potato chips.
We received an expert demonstration of each dish from Gary who revealed some useful knife skills when spatchcocking chicken, preparing potato wedges and dicing vegetables; with additional tips on keeping onions intact for kebabs and dipping strawberries in chocolate without creating a huge, albeit delicious, mess.
The rest, as Rosalind was keen to point out, was down to us. So we formed small groups to tackle one recipe each ensuring everything came together simultaneously for the eventual feast. Certain things took less time to prepare so we were encouraged to jump groups and lend a helping hand, which meant more getting stuck in, learning more and more mingling with fellow guests.
Periodically we would all convene, which on one such occasion involved the creation of our smoky BBQ sauce; something of a fascinating "taste-bud tutorial". Rosalind encouraged us to gather round the big pot, tasting and tweaking until we all agreed the sauce was perfectly balanced. Initially, most found it a little tame so we were told to keep adding sugar, salt and vinegar (but not Tabasco), taste-testing in between each addition. Sure enough, this gradually coaxed the smoky, fiery chilli flavours of the chipotle out of hiding until eventually, and somewhat miraculously, our sauce revealed the requisite kick. Even then, a bit more chipotle was splashed in for good measure. This was all about the chilli after all.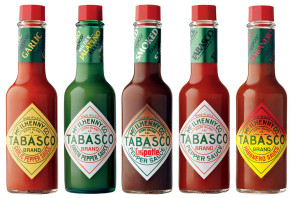 Something else that emerged from this was a warm-hearted glow of conviviality, which spread like wildfire across the group. As we chatted I was stunned to discover someone with an intolerance for chilli, and someone else who had never tried Tabasco. This suggested they were there to experience everything the school has to offer as opposed to the specific thermometer-pulsing theme.
It's no surprise to discover devotees to this charming little school, where a hands-on, communal approach to cookery is firmly championed. Rosalind and her team brim with enthusiasm and promote passion for food, which creates a sense of cooking as something fun, harmonious and informative.
This was evident once our barbecue was grilled to perfection and we were ushered around a long communal table, armed with a delicious Champagne-yeast brewed beer to temper the fiery fruits of the evening's labour. Gary, also joined us, beer in hand, to eat, chat and make merry and Rosalind waited on us attentively, occasionally breaking to proselytise on all things food.
Whether it had been the high-spirited end to our evening or a chilli-related surge of endorphins remains uncertain, but one thing I do know was that four jars of hot sauce in the right hands, with the right people and in the right place, makes for one fun feast. All that's required now is the right weather…
Top five barbecue tips
 1. Use a spray bottle with apple juice to baste meat. This will help it stay moist and result in a nice caramelised coating.
2. Don't cover the whole base of the barbecue with charcoal. Leave a space around the edge so that there's a difference in heat.
3. Start with what takes the longest to cook. Once something is cooked, it can be moved to the edge, away from direct heat, to make way for the next item. Chicken usually requires the longest cooking time.
4. Keep an eye on the temperature, ideally using a thermometer. If possible, use a lid to keep in heat and reduce flames caused by dripping fat.
5. If there are too many flames, move the grill out of the way and shake table salt over the fire. Replace the grill and continue cooking.
For a list of schools in the UK who offer barbecue courses visit the Looking to Cook BBQ page
Contact: Cookery course report: Hot sauce for chilli nights