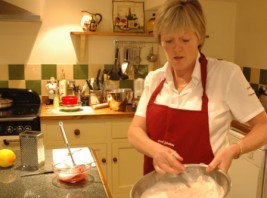 I imagine that arriving at Harmony House Cookery School  is lovely at any time of year. Situated in the picturesque village of Stillingfleet, just outside York, the school overlooks a meadow complete with meandering stream. Arriving as I did, on a windswept and generally squally morning, to be met with a roaring log fire and a steaming pot of coffee, well, Hilary had me at 'Hello'.
Harmony House is home to Hilary Finney (pictured), a Cordon Bleu trained chef of thirty years standing. Her home doubles as the cookery school and a bed and breakfast, and the school's approach reflects this multifunctionality. I had been tempted out this blustery day for an intriguing double day of food and flower arranging. My fellow attendees arrived as I thawed and Hilary talked us through the plan for the day.
The morning would be spent with Hilary in a mixture of demonstration and hands-on activity, preparing a range of dishes for lunch. In the afternoon Hilary would hand us over in to the care of Joanna Keely to learn flower-arranging skills. I'm quite comfortable in the kitchen but my floristry skills are limited to plonking flowers in a jug.
It is always a good sign to find out that the people who are attending the course with you are return guests and on this occasion all four of my attendees had been to Harmony House before. All lessons are taught around a central island in Hilary's kitchen, with a relaxed and informal approach.
The theme for the morning was simple: to prepare delicious food. A hearty garlic mushroom and bean soup, warm cheese muffins, beignets and profiteroles, apple and amaretti crumble tarts and a chocolate roulade all took shape in a seemingly effortless fashion. Hilary is a reassuring tutor, sharing an approach to cooking that is easy to relate to for home cooks. Recipes are followed, yes, but they are adapted in the moment, responding to the variations of season, ingredients available and time constraints.
Through all of our questions – and we did ask a lot of questions – Hilary remained calm and full of enthusiasm. Several group members were anticipating cooking for family members with food intolerances and dietary requirements, so each recipe was discussed in light of these needs. Where a substitution or alteration might not work a new dish was suggested and the recipe printed out to add to our packs.
After a rather good lunch in the conservatory we join Joanna for the afternoon session. Clearly her former time as a school teacher stands her in good stead as she is patient and encouraging, managing to talk me through the creation of a floral piece I'm genuinely proud of. (Yes, I do later send my mum a picture of it and wait for praise, completing the school analogy neatly). She is full of useful tips from what to look for, how to look for foliage in your garden and hedgerow and to how to keep oasis wet (ice cubes).
The two halves of the course dovetail well. There is something contemplative in the flower arranging that complemented a contented stomach after lunch and Joanna continued the informal, inclusive atmosphere Hilary established in the morning. Both are welcoming and knowledgeable in their areas of expertise.
Hilary and Joanna both run several courses together a year. Harmony House also offers a wide range of other courses and Hilary is an ever popular contributor to Radio York. Starting at £60 per person, the courses are good value for money and the location makes Harmony House an attractive base for visiting the surrounding area.
Contact: Cookery course report: Food and Flowers at Harmony House