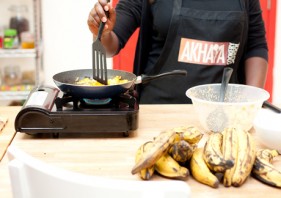 Some 15 years ago I shared a house with three African students whose cooking filled the kitchen with the most mouthwatering aromas. Unfortunately, it was when I was more concerned with club nights than culinary delights and I missed out on learning how to create the dishes they prepared.
And so it came as a welcome surprise to find out during my afternoon with the Akhaya Cookery School that what I thought would be a challenging cuisine to master owes a lot to my favourite marinade, piri piri. I had already tackled this marinade at a cookery school in Laos, where it is thought Portuguese missionaries introduced it. For such a relatively small country, Portugal has got about a bit. No wonder Nando's has been so successful at conquering the high street.
The school is run by chef Jennifer Okpapi, whose family hails from Nigeria, and is based in Tottenham Green Business Centre. The kitchen is bright and spacious with African music providing cheerful background noise. There are nibbles and drinks provided to snack on while you meet your fellow classmates.
Jennifer gathered us together to set out the afternoon's menu, which included making two curries. She explained how East African food is influenced by Portuguese and Indian cookery.  After introducing ourselves and briefly recounting the type of food we enjoyed cooking, Jennifer set us to our tasks. Although a softly spoken lady, you can tell that she knows how to command a kitchen. She steered our chatter with friendly but firm encouragement towards completing the preparation and execution of the dishes.
Our first dish was a piri piri marinade to slather over veggie kebabs. I was slightly disappointed to be using vegetables that I cook with every day, such as mushrooms, peppers and courgettes. I was hoping to be introduced to a few new and exotic varieties of the sort that can be bought at many London markets and shown the best way to cook them.
That said, our first curry, the Kenyan Mbaazi Wa Nazi, was made from pigeon peas – an ingredient I had not come across before.
What I really enjoyed about this class was how it revived my interest in cooking with pulses, especially as our second curry, the Ethiopian Shiro Wat, was made from lentils and sweet potatoes.
Jennifer patiently talked us through the cooking process and supplied useful tips, such as not adding salt to the pigeon peas lest they harden.  We were encouraged to taste the curries as they cooked, adding extra spice or coconut oil if we felt it needed it. Jennifer is very open about her 'taste rather than weigh' approach to cooking. The recipes are more like guidelines.
At the end of the session, Jennifer invited the four of us to sample our dishes with a chilled glass of white wine. It was a delightful way to end an enjoyable and informative afternoon.
School: The Akhaya Cookery School
Class: East African Veggie Delights
Location: Tottenham Green Enterprise centre, London
Duration/Cost: Three hours, £85
Website: www.akhaya.com
Samantha Lyster is deputy editor of Fresh Produce Journal and blogs at www.tablemannersmagazine.co.uk

Contact: Cookery course report: East African veggie delights, North London