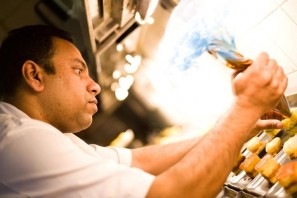 The Saturday cooking masterclasses at Cinnamon Kitchen may have an early start (9.30am) but do allow an extra ten minutes to ensure a timely arrival, as I discovered to my cost. Although the City restaurant is a stone's throw from Liverpool Street Station, access to its stunning glass-covered Devonshire Square location is limited at weekends, which means a more circuitous route to the gated main entrance opposite Cutler Street.
However, the advantage of running courses in the heart of London's business district on Saturday when there's no-one about soon became apparent – the restaurant has no call for a lunch service on Saturday, leaving the full facilities of a professional kitchen available for enthusiastic amateurs to try their hand at the culinary arts.
On arrival and feeling a little flustered from my travails, I was ushered into a private dining room off the main restaurant, served a light breakfast of juice, coffee and pastries and left to introduce myself to my navigationally more adept fellow students – a gender balanced mixed-aged group of ten.
Suitably sated, Rakesh Ravindran, the head chef at the Cinnamon Club, introduced his team and gave us a flavour of Southern Indian cooking before taking us through the dozen or so dishes that, as a group, we would be preparing.
With our taste buds teased, it was time to meet the herbs and spices we would be cooking with and learn how they should be used and combined, as well as some of their ascribed medicinal properties. Essentially, whole spices should be added to heated oil at the beginning of the cooking process, ground spices prior to simmering, with blended spices like karahi or garam masala added towards the end to enhance flavour. Turmeric however, should be put in the pot as soon as the liquid is added to allow the bitter taste to cook out and only the vibrant yellow colour to remain.
On entering the kitchen we were split into three groups and introduced to the chef who would guide us through the preparation and cooking of our selected dishes. Hari Nagaraj, the former Cinnamon Club head chef and now manager, was our expert guide and having selected our ingredients and required spices he put the three of us to work doing the required prep for our dishes of roast rump of lamb with Chettinand spices and coconut rice, mussels moily soup and lemon rice.
Following clear, well written recipes, and under the watchful eye of Hari, we blended spices, sauted shallots, curry leaves and coconut into a paste, trimmed lamb rumps before rubbing with a simple marinade of garlic and ginger paste, made a fish stock from monkfish bones and onion skins, cleaned mussels, and prepared a sauce using tamarind, fresh coriander, lamb bones and a dozen spices.
With the coconut spice paste added to the tamarind sauce and left to simmer and the lamb seared in a pan and transferred to a hot oven to finish, the main course was in hand. The mussels were then put in a pan of tumeric, onion and spiced oil for a few minutes before adding the sieved fish stock to finish the soup and with a heated pan of spiced chana dal and white lentils added to half the boiled basmati rice and the lemon juice, while the other half was complemented by yoghurt infused with roasted chana dal, mustard seeds, chilli, onion, ginger and curry leaves, our rice dishes were prepared.
Focusing our efforts on the dishes we had been preparing so intently had left little time to observe the cooking techniques employed by the other groups, whose offerings included, dry spice crusted sea bass wrapped in banana leaf, Alleppey style seafood curry with green mango and coconut, Karantaka style stir fried pork, green coconut chutney, Sambar – a lentil broth, Dosa – rice pancakes and a variety of stuffed and plain naan style breads made in the tandoor. Needless to say the day's events were the talk of the table as we sat in the restaurant to consume the fruits of our collected labours.
The course was a great success and enjoyed by all. Understanding the order in which ingredients should be added to the pan and their quantities was invaluable. We learned that an even dice will ensure onions sauté at the same rate, that a dollop of dough when added to a sauce will absorb the fiery heat of too many chillies or the saltiness of over seasoning and, as most ably demonstrated by Hari, that with a lot of practice we too will come to know that an extra pinch of this spice or a quarter teaspoon of that will bring a recipe of complex flavours into perfect balance.
Just in case you forget anything, all the day's recipes, plus an embroidered apron and a Cinnamon Club cookbook are presented in a goody bag for you to take home.
Cinnamon Kitchen Masterclasses cost £175 and run from 9.30am to 2.30pm one Saturday a month. Booking is essential as places are limited and courses are often sold out.
Contact: Cookery course report: Cinnamon Kitchen, Cooking of the Southern Indian estates