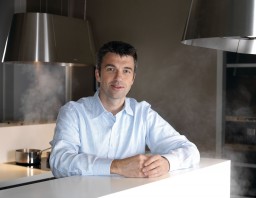 Basic ingredients: Practical courses, Martin's masterclasses and evening demonstrations for cooking enthusiasts in a well-designed, modern school. Eight work stations ensure small groups. Tutors include Wishart (pictured, right) and a team from his nearby Michelin-starred restaurant in Leith.
They say: "Students are encouraged to taste the food at every stage of the cooking, think imaginatively about how flavours complement one another and improvise like a professional chef."
We say: Particularly strong on seasonal Scottish cooking and fish.
Contact:
Cook School by Martin Wishart, 14 Bonnington Road, Edinburgh EH6 5JD
+44 (0) 131 555 6655;
www.martin-wishart.co.uk