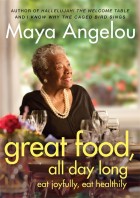 Great Food, All Day Long is the second cookery book by the acclaimed American writer Maya Angelou, following on from the success of Hallelujah! The Welcome Table. As anyone familiar with her previous book might expect Great Food is a mixture of recipes, anecdotes and advice.
At the grand age of 83, Angelou's food philosophy centres on healthy eating through portion control, but she is in no way advocating a dreary diet of lettuce and wheatgerm. Instead she has collected together a delightful selection of her own favourite recipes, covering dishes from chillies to crème caramel via succotash (a Southern-style stew of lima beans, corn and other bits and bobs) and vegetable terrine.
Where Hallelujah! largely focused on food as a shared experience, her new book also caters for the solo diner.  Angelou shares her own indulgences – chilli dog and ice cold beer with the phone off the hook, anyone? – reminding the reader that the reward of cooking well is eating well, a pleasure to be savoured.
Not, one suspects, that Angelou eats alone often, and there are plenty of recipes here to feed a tableful, such as Crown of Roast Pork served with Sweet Potatoes McMillan ('be prepared for the admiring oohs and ahhs,' cautions the author). One can imagine families sitting down to these sort of recipes for holidays such as Thanksgiving.
Given the current climate, budget conscious cooks will welcome the simple fare and affordable ingredients that Angelou uses, as well as her leftover recipes that can convert a simple roast chicken into a tasty supper for the following night, or two.  Nor is she strict about ingredients – in a recent interview she encouraged readers to adapt recipes to their own tastes – making the book more a collection of inspiration than an instruction manual.
Previously a committed carnivore, this book includes two chapters on Cooking Vegetarian With Courage, an exhortation perhaps slightly redundant given the recent surge in good quality meat-free recipe books (see for example Yotam Ottolenghi's excellent Plenty). However for those still unsure Angelou is there to encourage your first faltering steps, and share her wisdom along the way.
Filled with simple, comforting food and entertaining stories from a master story teller, Great Food, All Day Long, is charming and may even help you lose weight – if you can keep your hands off the leftovers long enough.
Great Food, All Day Long by Maya Angelou is published by Virago, price £14.99.
By Helen Sutcliffe
Contact: Cookbook corner: Maya Angelou's words of culinary wisdom