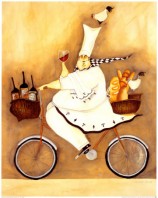 Like so many people who are slavishly addicted to TV cookery programmes and eating out at restaurants my own culinary endeavours have long since reached a plateau.
And yet such is the variety of help on hand, from express lunchtime cookery classes to free recipe cards in supermarkets, there are no excuses for not pepping up my kitchen act. So my task was to learn some fresh skills by cooking a three-course dinner party supper using different modes of instruction for each course.
The starter, cauliflower fritters, would be made using an internet video recipe; to cook the main dish of steak I would follow a new "iFillet" iPhone application, while I'd be guided through the pudding – caramelised pears poached in mulled wine with home-made honeycomb ice cream – by a professional chef, from Compliments of the Chef, a London-based company that offers in-home cookery lessons.
Could hand-held technology boost my culinary cred more readily than a real chef? Wouldn't I ruin both the equipment and the dish?
First off was the starter made from an online video. I shifted my laptop to the kitchen table and searched for the video recipe. I'd pictured the fritters to be more like something from Whole Foods than from an eat-all-you-can Cantonese buffet slathered in glossy sauce but that took a bit of searching.
Once I'd found my fritters recipe I watched the two-minute video and then placed the laptop on the sideboard and paused it step-by-step while I was cooking. It was easy to follow and the fritters – basically steamed cauliflower mixed with flour, eggs and herbs – were a success. They were like savoury cookies, golden and flecked with green herbs and served with a garlic mayonnaise. The laptop, I noticed, had a feint dusting of flour on the keyboard and the odd oil splash on the screen. Perhaps there's a market for laptop cooking shields or "aprons".
The free how-to-cook-a-steak iPhone application produced by simplybeefandlamb.co.uk is a beauty and raises the bar. The steaks on the screen look juicy and, when finished, are branded with perfect griddle-pan stripes. What's more, the cute audio sizzle doesn't spit fat all over the hob.
First you select the type of steak and how you'd like it cooked. My 10oz Kentish fillet matched the one on the screen perfectly and I chose medium rare. Useful tips pop up such as "heat the pan thoroughly before cooking" and "lightly oil the steak rather than the pan". That done I was ready to go and a stopwatch timer started to countdown three and three-quarter minutes on the iPhone as my steak began to sizzle in real time with the phone's virtual cut of meat.
While the steak is cooking more handy tips flash up on the screen: belatedly "Remove the steak from the fridge 10 minutes before cooking"; bizarrely "If cooking topless be careful with the splashes"; sweetly "Steaks can get lonely out there, try a fresh garnish", and controversially "For juicier results only turn your steak once during cooking."
As my steak, which was probably a bit thicker than the 3-4cm guideline for the iFillet app and in a pan thinner than a griddle, began to blacken on the top, my visiting chef, Paul Ellis, was itching to intervene.
After what seemed like an eternity the phone's steak flips itself over and I did the same with the steak in the pan.
According to Ellis, who is now freelance but had worked many years for the Hilton group, this was a disaster. "Chefs like to wet nurse their food and this just doesn't do it," he says.
The rigidity of the app's hands-off cooking instructions left the steak partially burnt on the top and bottom and blood-red rare inside – not the desired outcome. Also, I was amazed that the smoke alarm hadn't gone off.
Chef Ellis then wrapped another steak in cling film to get that neat cylindrical effect beloved of restaurants and cooked it in a hot pan for a few minutes on all sides before finishing it off in the oven for a further few minutes to gently cook the centre of the fillet. He served it medium rare, sliced and scattered with smoked salt granules. Delicious.
Ellis sprang into action for the dessert working in that highly focused way that chefs do during a service. Red wine and mulled spices were bubbling in one pan, while caramelised sugar was exploding in another and there was brown sugar everywhere. He taught me how to use a hand blender – place the bottom of the "stick" in the bowl and hold it at a slight angle – without coating the ceilings in cream and condensed milk. Splashes of vodka went into the ice-cream and before I knew it he was bent over the sideboard deftly plating up pear quarters, spooning syrup, trailing jus, dotting raspberries around the perimeter and tearing basil leaves. The result was inspired. And it was inspiring to watch a professional chef at close hand.
There is, however, no getting away from the fact that it's like having the builders in. But once you accept that things are going to get hot and messy you can roll with it. And they do clean up afterwards.
To sum up, there's a lot that budding chefs can learn from technology. It's a handy, often cost-effective, way to deliver basic guidance and confidence to millions of people in the kitchen and you dictate the pace. That said it's not quite as adaptable as having a professional chef on hand. The way forward will be technology that allows you to interact, when stuck, with real experts.
Chef's Compliments offers a range of courses in your home. For more information call 020 8769 3361 or visit www.chefscompliments.co.uk