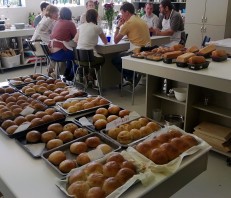 On first sight, the Cambridge Cookery School, tucked right into the back of Homerton Business Centre on Purbeck Road, appears rather unassuming. But when I arrived on a warm Sunday morning for the class Beginner's Bread, I was delighted to discover the expansive and inviting kitchen space bathed in heavenly beams of sunlight, pouring in through huge industrial windows.
Now, I don't eat a lot of bread, but I love it. The proper stuff that is. I adore the olfactory embrace of a fresh-from-the-oven loaf and spiny, rock hard crust that yields only to the sharpest serrated blade. I know I'm not the only one. As a nation, we're warming to the quality stuff again, thanks in part to our burgeoning foodie culture and popularity of shows like The Great British Bake Off.
So why don't we bake more as a nation? Despite Paul Hollywood and co., a recent survey revealed this isn't particularly on the 'rise'. Personally, I would never buy a loaf of rubbery shop bought bread, but I also rarely bake my own… which made me the ideal candidate for this class.
Led by Tine Roche, who founded the school in 2008, it is a four-hour introduction to some broad but intensely satisfying recipes and the basic principles of baking, such as mixing, kneading and proving.
The class covered four main recipes; a Scandinavian soda bread, basic white loaf, 'enriched' rye rolls and Swedish cinnamon rolls. Tine was born in Copenhagen and raised in Sweden so the 'Scandi' theme comes naturally to her. The fennel and caraway soda bread was unequivocally the best I've ever tasted, so I was delighted when we were each sent packing with a whole loaf. In fact, we left with bulging bags that could have fed the 5,000 twice-over. Although, in my case, it fed about five.
In terms of simplicity, our basic white bread is a case in point. Just four ingredients: yeast, water, flour and salt, combine to produce a beautiful, fluffy loaf with rich brown crust. "Proper" bread, we were warned, perishes very quickly, although it does freeze well. Tine's useful tip on how to re-animate frozen bread: remove from the freezer and reheat the bread slowly, at around 100C, until warmed through. What emerges will be as fresh and satisfying as the first bake.
Kneading dough seemed to be the toughest stage – certainly the most physically demanding – but done correctly will result in a desirably soft and chewy loaf. Apparently it transforms the flour protein into elastic chains of gluten but, regardless of the science, this process proved extremely satisfying and very cathartic. Hard day at work? Pummel some dough. By contrast, the proven dough which emerged an hour later was soft as a cloud, and so soothing to the touch, it felt like cradling a new born baby.
Our white loaf required strong white flour but for extra flavour and health benefits, Tine generally recommends the addition of rye flour. Low in gluten, which lowers the bread's glycaemic index, it can compromise the light texture, so keeping the ratio between 20 per cent and 30 per cent is just the right amount and will lend a slightly sweet, rich depth of flavour.
Spelt has a similar effect and also contains an impressive array of vitamins that benefit the heart and gut. These are entirely absent in shop-bought breads, which are produced quickly with "turbo-charged" yeasts and contain many additives and preservatives.
Sourdough is superior both in health and depth of flavour. It is by far and away the most digestible bread due to a long, slow fermentation process. Tine teaches an advanced class purely around the King of Breads, but has a great tip for those looking to cheat: bung an oiled plastic bag of kneaded dough in the fridge for up to 14 hours. The yeast has to work harder to develop under colder conditions which, in part, emulates the slow fermentation of sourdough.
For dough in general, we were told the "wetter the better", as this means softer bread. It can make the texture tricky to get right, but this is where the gluten test comes in: pinch and pull a small piece of dough and, as long as it remains elastic and intact, you are ready to prove. Proving is the stage prior to baking and simply means leaving the shaped dough in a bowl covered in cling-film, usually for around an hour.
Even with such simple bread recipes results can vary but this mostly comes down to how well the dough has been kneaded. As such, we name-tagged our own batches (historically, scoring bread served this purpose) to be sure there was no cherry-picking of the best looking loaves.
In the end, all the bread emerged from the oven looking incredible. There were no disasters, just wonderful aromas met with smiles all round. We tucked into our warm creations with accompaniments of salmon mousse and a white bean stew with chorizo. Wine flowed and impressively impromptu doughnuts, dusted with cinnamon sugar and ladled with lashings of sticky jam, brought a decidedly delicious denouement to the day.
This class is a fantastic introduction to bread. It is gratifyingly hands-on and students get stuck-in from the off. In a very short space of time, we learned that bread-making is fun but relaxing; the results hearty but healthy.
Progression is available through intermediate and advanced courses but students have the option to combine the Beginners, Intermediate and Advanced Sourdough classes, thereby covering the full spectrum at a discounted price. Those who sign up are in safe hands.  Tine is an expert tutor; passionate, knowledgeable and highly skilled. Prices are very reasonable which means, quite simply, a lot of bread for very little bread.
Contact: Bread of heaven