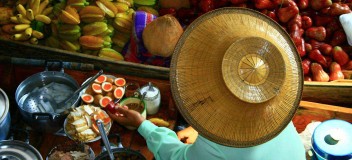 MasterChef Travel, Asia, Africa, South America
A new concept from the people at MasterChef, these culinary-themed short breaks are all about fun, non-competitive cookery with plenty of relaxation and sightseeing. In short, cooking does get much tougher than this. The trips to various locations, including Vietnam, Peru, South Africa, India and China, generally last between one and two weeks; the majority involve sourcing local ingredients, with plenty of hands-on cookery, whilst some are described as 'simply a celebration of great food and its place in local cultures'. For instance, 2010 MasterChef Winner, and Mexican born, Dhruv Baker is on board as tour-guide during a walking tour of Mexico's culinary capital, Oaxaca. Here, students will get to visit plenty of food markets, dine at the best restaurants and try out a cookery class. There is a similar blueprint for each destination but the itinerary varies depending on length of stay. Approximate costs range from £2,000 for a week to more than £3,000 for up to 15 days. Flights, domestic travel and accommodation are all included in the price with trips scheduled, on the whole, for autumn 2014.
How to Book: Email info@mastercheftravel.co.uk or telephone +44 (0) 20 7873 5005. Full travel itinerary and course schedules feature on their cookery holidays website

Ballymaloe, southern Ireland
For a bucolic break combining relaxation and rugged, hands-on cookery, a stay in East Cork at Ballymaloe House will tick boxes. The restaurant and hotel is surrounded by a 400-acre estate and nearby cookery school central to a 100-acre organic farm, where students can experience an intensive, field-to-fork cookery class.  Rooms at the plush hotel range from €85 per person, to €135 during peak season, but there are also many self-catering farmhouse cottages, renovated to a luxury standard, with a Single Room priced at €55 per night and Twin Room, €30 per person per night. Two-and-a-half day courses are around €600, 4 days approximately €700 and week-long courses up to €1000. The school also offers guided tours of fecund fields and gorgeous gardens, with the surrounding area presenting plenty to do, including wine tours, fishing trips, massage treatments and child-friendly fun at the farm or nearby Wildlife Park.
How to Book: For enquiries email res@ballymaloe.ie or phone +353 21 4652531
Swinton Park, Yorkshire
Swinton Park near Ripon in North Yorkshire is a 20,000 acre estate stretching from the River Ure up onto the moorland dales. The surrounding area boasts plenty of natural beauty and some fine artisan produce, so a short break, combining cookery and luxury accommodation may provide the best recipe for relaxation somewhere closer to home. The spectacular castle hotel has three AA rosettes and the attached converted Georgian stables are where guests will discover a state-of-the-art cookery kitchen. There are two day master classes in Italian and French cookery, both of which cost £310 and carry special accommodation rates. For something more tailored, the Gourmet Weekend includes wine-tasting, cookery demonstrations, dinner in the restaurant, tour of the Deer Park and the intriguing, Gourmet Treasure Hunt. The cost for two guests, staying two nights starts from £725 per room.
How to Book: For any reservations email reservations@swintonpark.com; telephone 01765 680966. For the cookery school, email cookeryschool@swintonpark.com; telephone 01765 680969. There is a gift voucher option available for most activities and events.
Cooking in Italy, Introducing Villa il Boschetto and the cuisine of Le Marche
Our very own Cookery School of the Year 2013 Champ, the Cambridge Cookery School, have scheduled two week-long excursions to the Adriatic Coastal region of Le Marche. Located alongside Tuscany and Umbria, this 100-mile stretch of hilltowns, villages and farms is an undiscovered gem and was described in the Guardian as gorgeous and affordable. The dates are between Friday 6th – Thursday 12th June, and Friday 26th September – Thursday 2nd October. The trip combines plenty of sightseeing, outings to market towns and local producers, and of course hands-on cookery, including ice-cream and fresh pasta-making. Accommodation, the Villa il Boschetto, sits in the foothills of the Sibillini mountains outside the small market town of
Appignano. It features a vast central kitchen, converted from former cow stalls, an outdoor salt-water swimming pool and five luxury rooms for a total of 10 guests. Not all rooms are ensuite, but have shared bathrooms, which is reflected in the cost. The overall package does not include flights, but cheap, regular flights from Stanstead to Ancona – a 45 minute drive from the villa – are available from Ryanair.
How to Book: For any further enquiries or to book, email one of the team on learntocook@cambridgecookeryschool.com or call 01223 247620. A full detailed brochure can be downloaded from the website.
Extensive French Tours
France is perhaps inevitably a popular foodie destination but with so many culinary hotspots, the tough choice can be which region to visit. This is where Active Gourmet Holidays seem to have it covered, with trips to Burgundy, the Loire valley, Paris, Provence, French Riviera and the Southwest on offer, in some cases, for up to seven nights. Breaks such as Cooking in Paris and Catalan Tastes are available all year round whilst others, including Bourdeaux Gourmand and A Small Taste of Provence an option from around Springtime onwards. Culinary and Wine Adventures in Hidden Burgundy is a 6-night stay at a 200 year-old renovated home among the vineyards of the Domaines in this world-renowned wine producing region. For around £2,000, guests receive six nights' accommodation in spacious, en suite bathrooms, all meals and wine – including dinner at a three Michelin star restaurant – hands-on cookery classes, wine tasting, cultural excursions and all domestic travel. Experiences vary and one such 3-night holiday, Active Gourmets in Bordeaux, costs around £800 for double accommodation within a renovated 18th century forge; the home of a French-American couple who also own a nearby vineyard farm.
How to Book: Email info@activegourmetholidays.com or submit an online booking form.

Vegetarian Vacations, south of France
For those who appreciate the greener, and alliterative, side of culinary tours, online directory Vegetarian Vacations present the finest examples of cookery experiences from the award-winning Vegetarian Cookery School in Bath to a holistic vegan voyage in Spain. The beautiful historic city of Bath is always a safe bet for anyone fancying a 'staycation' and Rachel Demuth's school offer plenty of one-day courses at £150 per person, but every May, they also run five-day cookery trips to Southern France at £785 per person. For a Spanish flavour, Go Vegan takes guests to Axarquia, a small region surrounded by olive groves, almond trees and a 4000 hectare wildlife reserve in Sierra Almijara, which is located approximately 10 miles from the Costa del Sol and the famous Caves of Nerja. For €650 per person, this 6-day trip includes double-room accommodation, cookery lessons, Yoga, Qi-Gong and Massage sessions; meals with wine each day and domestic travel.
How to Book: contact Jane Barnes & Rob Green by email: mail@vegetarianvacations.com
For the full directory of vegetarian cookery courses visit Looking to Cook

Contact: Booking to cook: six of the best culinary vacations