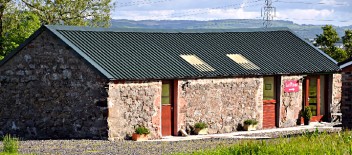 Basic ingredients: Let's Cook started in December 2009 when owner and head tutor, Sarah Mellersh, returned to her native Scotland to fulfil a burgeoning desire to teach cookery. She does this from a converted barn in the Perthshire countryside and welcomes budding cooks of all age and ability. Students can choose from a range of short demonstrations and hands-on courses benefiting from Sarah's years of experience working for various prestigious catering companies as a private chef. Demonstrations last two hours and cost £30, including recipes and the food cooked during the session. Day courses run from 10am to 4pm and are limited to six students. There are various workshops and a broad range of themes such as Italian Baking, A Taste of India and Meat, Meat, Glorious Meat! At £105, the day includes food, wine, recipes and doggy bag if needed. Other courses welcome students, teenagers and children between 8-12; with further options that include food and wine matching, 3-day baking and two weeks intensive cookery essentials for those seeking a fast-track to employment in private catering.
They say: Cooks are not made by recipes alone, but by the thousand and one details of pure technique. Let's Cook Scotland! is here to help you learn and master these techniques enabling you to become not just a good cook, but a confident one.
We say: Courses at Let's Cook Scotland! are big on quantity but this needn't diminish quality. Testimonials from satisfied students suggest this school is a recipe for success, with classes focussing on fun, informative, hands-on cookery enabled by a warm and enthusiastic teacher.