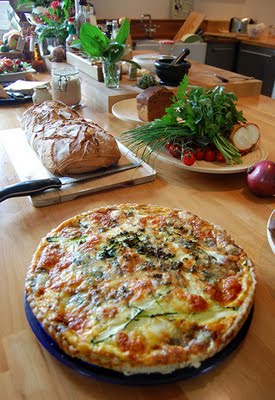 I'll admit up front to a love of France and French cuisine (not to mention the wine!) so I was interested to hear about Katherine Frelon's cookery holidays at La Ferme de La Lochere. The location is impressive, nestled in the Burgundian hillside but only five minutes from the TGV and fast connection with the Eurostar. Home for the next six nights was the gîte that Katherine created herself from an old stables, which I would be sharing with six fellow gastronomic adventurers. Each day was full of delicious experiences, so I've picked some highlights to give you a flavour of the fun.
Sunday
A warm welcome from our hostess, and an equally welcome local aperitif, preceded a wine tasting with Bernard Moore of Wine Liaisons. Bernard took us through eight different wines from the region, explaining the grape varieties and vineyards. He also explained how to taste wine correctly, agitating the fluid in the glass, sniffing deep and taking a large mouthful to bathe the tongue. We were soon swilling fine whites and reds around our mouths like seasoned pros. Bernard was a knowledgeable and amusing guide, telling us how the ground affects the grape crop – small but intense flavours from the stony ground – and which wines you could drink young or buy to lay down. A particular highlight was a Puligny-Montrachet Premier Cru AC 2010, referring back to my tasting notes I had written simply 'amazing'.
A good wine tasting, Bernard assured us, takes place when you are hungry, so the senses are sharpened. We had nibbled on gougeres and saucisson of wild boar during the tasting but were ready to gather at the custom-made dining table to enjoy dinner, prepared for us by Katherine, which featured among other treats a cheese plate, a daily food highlight for the coming week.
Monday
The first of our week's Michelin cookery experiences saw us at 'Le Charlemagne', a 1-star restaurant run by Laurent Peugeot, for a cookery demonstration and lunch. Laurent himself guided us though the making of a Thai-style fish soup, using pungent flavourings including fish sauce and shrimp paste. He showed how important it is to allow your stock or sauces to slowly reduce in order to create an intensity of flavour.
Laurent also demonstrated how to make an ingenious stuffed prawn dumpling. The process involved flattening prawns into thin strips and arranging them in a semi circle on top of a layer of cling film. You then place your stuffing in the centre and use the film to help you wrap the fish into a ball. At this point, refrigeration allows the fish to firm up to be unwrapped and dropped into your soup a minute before serving. We stayed at the restaurant for lunch, enjoying the views over the surrounding vineyards and the over the kitchen, which, contrary to my expectation, was a haven of peace during service. The food was a fusion of French and Japanese, including some unusual combinations such as the matcha tea and wasabi ice-cream and the fermented milk jelly, which was much more delicious than it sounds.
Tuesday
After a morning visit to the impressive fresh produce market in nearby Dijon and a really impressive picnic-style lunch prepared for us by Sharon, one of Katherine's able and charming assistants , we were cooking again. Over the week our cooking experiences followed a similar format. Individually or in pairs we each tackled an aspect of the meal, from simple onion jam to stuffed mackerel. As we cooked together in the spacious and well appointed kitchen Katherine moved around, guiding, coaxing or just reassuring as was needed. We all picked up some great tips for home use, such as using squeezy bottles to drizzle a flavoured oil around the plate or garnish soup; using salt to fix the colour of blanched vegetables, and flavouring eggs by placing a truffle in the carton. Katherine's whole cookery approach is 'plan but don't panic'. I'd like to think this rubbed off on us as the week wore on.
Wednesday
After a morning trip to a local vineyard in Flavigny (the shooting location for the film Chocolat) and another delicious lunch we were ready for our croissant making lesson from Frederique, the local baker. The process of combining the butter and dough to make multi-layered croissants is both harder and funnier than you might expect and Frederique's good grace and bemused looks at some efforts did little to dispel the giggling. Group member Valerie clearly had the knack and produced row upon row of perfectly formed crescents, but every one else's tasted just as delicious, proving looks really aren't everything.
Thursday
Thursday was all highlight – a tour of the region's vineyards with Bernard Moore again and dinner at 3* Michelin restaurant Bernard Loiseau. We visited some great small vineyards to taste their produce and see how the magic happened, and used our recently acquired skills to appreciate what they produced. Dinner at Bernard Loiseau was all you might expect from somewhere with that reputation, and by the drive back the group were laughing away like old friends. Definitely a memorable day.
Friday
The final day of our stay saw us bring together all our knowledge from the week to cook in the well-appointed kitchen, with time for a quick side trip to a picturesque chocolate shop for the best chocolat-chaud I've ever had. We also found time for an amble along to the moated chateau at the end of the street (no, really) which added a fairytale element to proceedings. Katherine again made our communal cooking a fun experience, filled with tips and pointers, and we created truly good food.
Overall the week was a combination of learning, relaxation, sensations and indulgence set in beautiful countryside, with great company. Each guest leaves with an apron, a copy of Katherine's recipe book, menus, cheese lists and wine lists from the week, full stomachs, and new friends. Fabulous indeed.
To see what we saw in France check out our photo album at facebook.com/lookingtocook
See our itinerary here.
Contact: A week of wine, cooking and Michelin-star restaurants in France