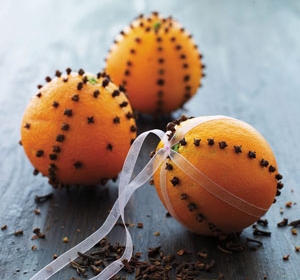 Scandinavia's star is rising. Both its cuisine and crime fiction have dominated dinner party tables in the past 18 months.
So with eager anticipation I braved the first bitterly cold night of winter to attend "A Scandinavian Christmas" course at the Food at 52 cookery school in Clerkenwell, London.
On arrival I was greeted at the door by school co-owner Emily Benbow and ushered downstairs to the warmth of the kitchen to meet guest tutor and Danish cooking legend Trine Hahnemann and my fellow students, a mixed group of five 30-somethings. We warmed up over a warming glass of traditional Gløgg – a Scandinavian mulled wine made with simmered red wine, lemon and blackcurrant juices, a spice mix of cardamom, cloves and cinnamon and blanched almonds and raisins.
Once settled, Trine talked about the dishes we would be making and explained how the seafaring exploits of the Vikings had introduced spices and Mediterranean fruits and vegetables to the cuisine, which have been part of Scandinavian cooking ever since.
By the time we had trimmed, cooked and whizzed together a chicken liver pate with thyme, it was obvious that this course was very much about hands-on learning and not a cooking demonstration. Having doused a cleaned and trimmed celeriac root in olive oil, covered it in salt and set it in a 180°C oven to roast for 70-80 minutes, it was straight on to making the curing liquors for our meat and fish dishes.
Dissolving 100g of both sugar and salt in 1 litre of water – Trine recommends rock or sea salt as anti-caking agents in table salt can taint the flavour – cloves and cinnamon were added to the liquor for the fish, while bay leaves, thyme and black pepper flavoured the cure for the bird. The boned cod fillet and duck breast were covered with liquor, once cooled, and left to cure for 8-12 hours.
It was a revelation to see how the pre-cured cod had acquired the texture of something akin to smoked salmon or gravlax and was ready to slice and serve, while the duck was flash fried in butter to colour before being placed in a hot oven for 10-12 minutes to finish.
A tray of thinly sliced, seasoned and lightly oiled Jerusalem artichoke were placed on the top shelf of the oven to crisp up, before our Scandinavian Christmas buffet was completed by making a fresh horseradish sauce and a kale and pomegranate salad, surprisingly made with finely shredded raw kale. The secret is to buy your kale as complete leaves, which makes easy removal of the tough central spine.
We popped upstairs for a glass of wine and returned to the kitchen to find the large central table decorated and laid with the food we had just prepared.
The liver pate now adorned toasted rye bread squares, the roasted celeriac boasted a thin curl of cured cod, the duck breasts were presented cubed on sticks with artichoke crisps, and the salad of kale and pomegranate created a seasonal centrepiece reminiscent of holly and red berries.
Buffet consumed Trine then surprised the class with a traditional Christmas Eve cold rice pudding made with almonds served with a hot cherry sauce, to send the class home full of Scandinavian Christmas cheer and a little more in tune with our inner Viking.
Trine Hahnemann will be sharing her tips and recipes for great Scandinavian cooking, at the Food at 52 Cooking School, Clerkenwell, London, www.foodat52.co.uk  07814 027 067
Scandinavian Baking: Friday January 25, 6,30pm-10.30pm, £115
Flavours of Scandinavia: Tuesday January 29, 10am-3pm, £115
Flavours of Scandinavia: Wednesday April 17, 10am-3pm, £115
Contact: A Scandinavian winter cookery course