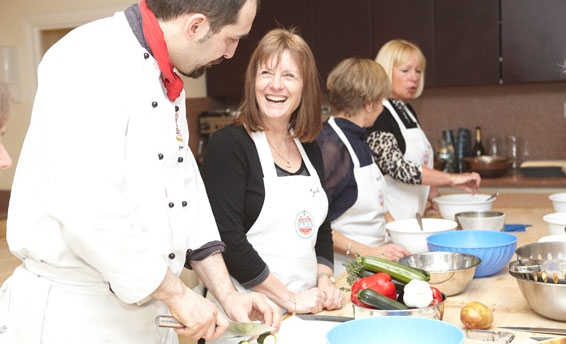 Six hours in a hot kitchen on your day off can sound less like fun and more like a busman's holiday if you're used to doing all the cooking at home. That was my first thought when presented with a day at Caldesi Cucina, the Italian cookery school just off Marylebone High Street. But a cafe latte and biscotti on arrival made me realise that this would not be like being at home, well, at least not my home.
As well as being presented with delicious coffee, we were also given a print out of the day's itinerary. We were expected to help make tomato sauce, carbonara, frittata, steak tagliatelle with rocket, salmon with pistachio and honey crust, leek risotto with walnut pesto, Tuscan ragu, Arrosto misto (like a pot roast), chicken with lemon, cannellini bean mash, sauteed cavolo nero, roast potatoes, chocolate mousse and baci di dama or "ladies kisses" which are miniature chocolate biscuits.
Despite sounding like an awful lot of hard work, we raced through the recipes, helping with preparation and learning how to bone a chicken and de-grit a leek along the way. There was plenty of opportunity to quiz chef Stefano Borella and Katie Caldesi, the teachers, about which was the best food processor to buy, how do you make risotto in advance and why Nutella is the food of the gods.
After all that work we needed a little sit down. And a glass of wine. Fortunately, by then the helpers who silently put out the ingredients and cleared away washing up (again, very unlike being at home), had turned the work stations into an L-shaped dining table, complete with vases of hyacinths to decorate. As the food was cooked, we went up and helped ourselves, tasting the fruit of our labour. And it tasted good. We all swore we'd make it when we got home. And if the litmus test of a good cookery course is whether you actually do make any of the recipes at home, I think Caldesi has done quite well.
Personally I've made the tomato sauce, the risotto, pot roast, sauteed cavolo nero and roast potatoes. Not bad going for a week and a half later.
www.caldesi.com/la_cucina_caldesi/
Easy Italian Course £150
Claire McDonald writes the Crumbs! blog